0
U2Fanz U22 Review
There are two conflicting things going on here for mine.
The first is track selection. On the release of U2's "Best Of's" there was always great debate about which songs were selected and which were not. The 80's compilation was probably a little too hit laden, but an accurate reflection of the bands work in the 80's. However, the 90's release wasn't as good a reflection of U2's most ambitious decade. I always thought it took the safe route after the back lash of Pop. More than once I thought I could do better, making sure more ambitious and important material like The Fly, Lemon and Mofo were included. You see, I know better! In more recent times, this type of debate has moved to Internet forums from almost every corner of the globe. Fans putting forward their suggestions for set-lists in the lead up to opening night of tours. We've all seen them: why not forget Pride and New Year's Day and open the show with Acrobat followed by Lady with the Spinning Head? Sound familiar? You see, we ALL know better. We should pick the set-list!
Secondly, as Bono will tell you, the sum is, when U2 is at its best, bigger than the parts. U2 concerts for many of us are a living breathing thing, merging 22-24 tracks into one big, loud and passionate celebration/experience. Think Red Rocks. Think Zoo TV Live in Sydney. Think post September 11 shows in New York. For that reason, U2's tour related releases are usually documented from a single show that illustrates this almost unrivaled skill. U2 are the best at this and a compilation CD will surely lose this? I never liked INXS Live Baby Live CD, for instance, as unlike the fantastic Wembley only video release, the CD was a mish-mash from several concerts on the tour; it just didn't work as well.
So here we are with U22, a fan voted fan club release so WE can select the best songs of the tour. Great idea, but will it be a cohesive document of the tour? Will it work? Does it matter?
Enough of that for the time being, it is all about the songs we picked. Can you think of a U2 live release that sounds better both technically (well done Declan/Joe) and performance wise? It sounds awesome and illustrates that despite advancing years, U2 still sound GREAT. The version of Bad, for instance, reaffirmed what I thought when we were lucky enough to hear it played in Melbourne and Sydney on 360. I left those shows thinking they were the best versions of Bad EVER, but put that down to after-concert glow. But you know what? They were playing Bad really well on 360 and this stunning version from Rome surely proves it. The segue into All I Want is You is fabulous, but does make the next track, All I Want is You, jar a little! But hell, we were there when they played All I Want is You/Love Rescue Me - and the thrilling two minute Michael Hutchence tribute in-between made this Australian spine tingle.
From the storming start of the re-imagined Even Better Than the Real Thing from Mexico, to the Frank Sinatra tinged Until the End of The World, it is a strong fast paced start. There are great performances perfectly mixed everywhere. I Still Haven't Found What I'm Looking For and Stay change the mood, both showing Bono's pipes still work. The fans know their stuff, why wouldn't U2 play Stay every night after hearing this? I suspect nearly everyone voted for One Tree Hill too. Us fans know what we are talking about, clearly.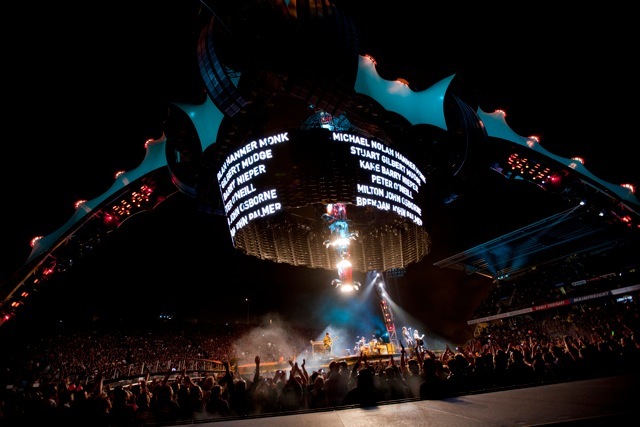 Other highlights are another brilliantly performed track on 360, The Unforgettable Fire. UF segues perfectly into the next track, Zooropa, despite never being played together and being played two years apart on two different continents! Big tick here, especially when City of Blinding Lights follows almost seamlessly. Remarkably, the track placement ebbs and flows in a manner that makes it still feel like a cohesive concert. We are however reminded that it is not when the crowd chants the Pride coda in the Zagreb tribute to Aung San Suu Kyi despite Pride not being played. A perfect version of MLK into Walk On follows to distract us from this. The Unforgettable Fire album does very well on this release, as it did on the tour. Also we can't forget to mention Ultraviolet, a 360 theme song of sorts, sounding fantastic on the back of Where The Streets Have No Name - no easy feat! I personally miss earlier versions of With or Without You but, no matter how it is played, it still sounds great and always will. Probably should always be after Ultraviolet too!
Although not surprised that I'll Go Crazy If I Don't Go Crazy Tonight wasn't selected (I didn't vote for it either), a 360 collection sounds strange without it. It makes it a relief that Moment of Surrender, another key track of 360, is included. Reflective and moody, just like the end of a U2 concert should be. Think Red Rocks. Think Zoo TV live in Sydney. But of course, we are fans and we ALWAYS want one more. So we voted for Out of Control, didn't we? Because we know, don't we?
In the end, what makes this special is that we got a chance to have input. And sure, not everyone's selections will have made it. I'm still crying about NLOTH not being included and where was Acrobat? But the ones that did get selected sound great. The fact that it is largely cohesive and as good a live compilation as you will hear is because we picked it and U2 played it. I just listened to One again. I don't know what I was worried about.
Article: U2Fanz U22 Review